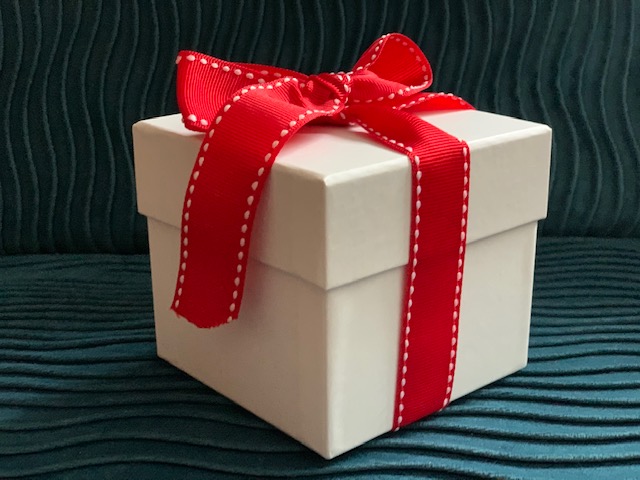 The Blessing Box is a white box with a red ribbon wrapped around it. The white represents purity and holds the gift. The red symbolizes the sacrifice Christ made for us on the cross by taking on our sins, our grievances and our very needs to redeem us. The Blessing Box is a gift to another in need.
What makes The Blessing Box unique is that it is a charity aimed at blessing the giver through service and the recipient by meeting a core need. It is our distinct honor and prayer to partner with you by providing an answer to someone's need. It is the purest form of charity when one gives to another without expecting anything in return.
What's Inside the Blessing Box?
The Blessing Box will contain a monetary gift or gift card designed to help individuals with practical financial needs such as food, gas, clothing, and other practical needs.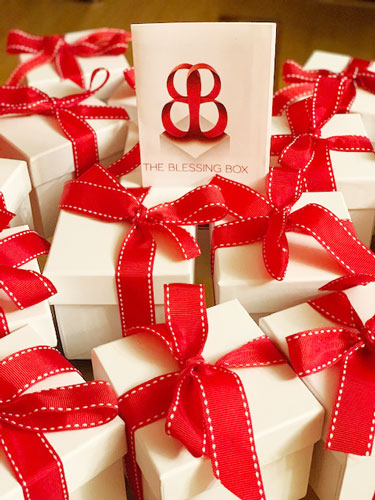 Inside the box is a note that simply states the following:
The Blessing Box, Inc. is a nonprofit organization that seeks to inspire, nurture and empower the human spirit by exemplifying compassion in action. Someone has recognized your need. We are honored and blessed to be able to give you this gift. Our prayer is that it will lighten your load, help heal your broken-heartedness and remind you that you are an important and valued person.
Blessings today, tomorrow and always – The Blessing Box
TheBlessingBox.org
Dear Blessing Box,
Our family received a Gas gift card from your organizations on Christmas Eve. My sons High School nominated us for this gift by saying "They just need a break!" I can't thank you enough for this gift as it brightened our day and holiday. Please know we will be paying it forward by helping others and volunteering. It has been a rough few years and this gift card will be used to keep our family close during hospital stays and to go see our daughter in college.
It is organization like yours that keep the spirit alive.Again thank you!
I wanted to let you know that I recently shared one of the Blessing Boxes with a patient in need. She is a young mother with several children and experiencing many hardships. Her family lives in extremely poor living conditions and she is facing eviction. She is underemployed, has no food or formula in the house, and the electricity has been turned off for months. I gave her many resources, but the most immediate and beneficial one was the cash donation from your organization. Thank you again for remembering the mothers and innocent children in our community.
Thank you.
My family and I are humbled by your generous Blessing Box that was delivered to us by Social Worker, and our children's counselor. It's hard to put into words how grateful we are when something like this kind takes us by surprise. A lot of people never realize how an illness can take its toll on a family physically, emotionally, and financially. I always believe that God works in mysterious ways and never leaves prayers unanswered.
Thank you again for making our day a little brighter.
This box went toward the purchase of a $100 gas card for a family where the mother is terminally ill and the family makes constant trips back and forth to Madison for treatment. Our hope is that this will help defer some day to day costs as the family struggles with their current situation.
This box was used to buy clothing for a student whose family is not able to afford/provide for him. We were able to purchase clothing and toiletry items so that the student could even shower at school if needed to help him be positive and confident about himself and participating in school.
This gentleman is 63 and actively dying. He's been in our virtual hospice program. His wife – who has limited supports and limited income, has been at his side for days now. She has her own health issues, and has been rationing money/supplies and only eats sporadically. No means available to help her get food. With your support I was able to give her the blessing box to help keep her healthy and fed as she supported her spouse during his final moments."